I have a deep and spontaneous affection for Grandpa Types, a prediliction that is going to become simultaneously more appropriate and creepy as I age into my golden years. For now, though, I see a cutie grandpa and just want to squeeze him, dig through my bag to see if I can scrounge up anything–from throat lozenge to spare pen–to stuff into his pocket, and fetch him a warm beverage and the remote control. Even if he smells like a wallet marinated in whiskey, I pretty much want to ease him into a recliner and pass him the pistachios.
It's all part of My Grandpa Thing.
So is the fun I had snapping photos of Grandpa Types in the city of Adana, which is our first stop in a week-long venture around the region called Hatay. We spent hours walking along the river and trailing the kids through the various playgrounds that anchor the green space bordering the river…and hours taking photos.
You know, of Grandpa Types. And stuff.
Here are my four favorite snaps from today. I need help whittling down these candidates for my Turkish Grandpa Calendar 2011. Who would you vote for as your Mr. January?
Candidate #1:  Easy, Breezy, Traditional, Well-Barbered:
——————–
Candidate #2: Gruff, Straightshooting, Daring to Wear the Outlawed Fez, Mobile on His Awesome Bike: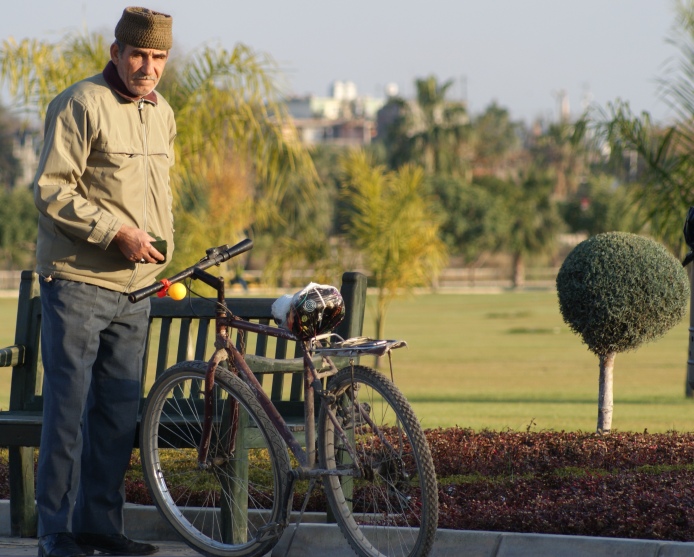 ——————————
Candidate #3: Observant, Interested in Old Roman Bridges from the 4th Century, Amenable to Palm Tree Prickles, a Real Take Charge of the Landscape Fellow: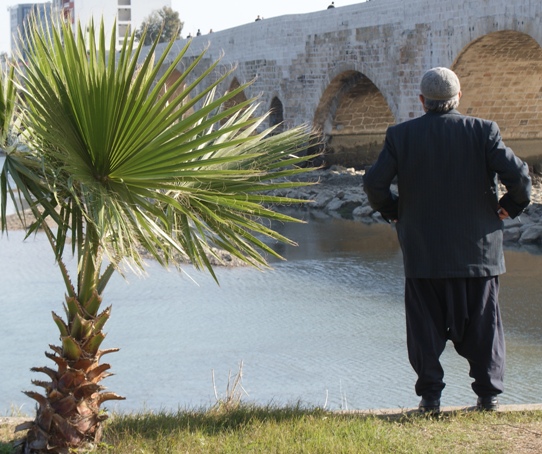 —————————-
Candidate #4: Not Afraid to Wield the Cane or Blow the Nose, Sensible in Layers, Rocking His Sneakers, Enjoying the Slightly Off-Kilter Party Inside His Head:

———————————–
The calendar neesds to go to press, er, next week, so a decision must be made. Which delightful grandpappy gets the honor of becoming Mr. January?