Turkey is in the midst of a gigantic heatwave.  In Ankara, the capital, older civil servants with health problems were sent home because of the heat.  In Istanbul the temperature, adjusted for humidity, is reaching 40 degrees Centigrade (104 degrees Fahrenheit).  The mid-day sun is baking us here in Goreme.  And to top things off the Turks believe that a draft is bad for the health so fans are virtually nonexistent.
This situation is illustrating to us the need for a siesta during the heat of the day.  Today we slowly worked our way to our friend Christina's to make lunch.  Each patch of shade was relished and lingered in.  After lunch was done we read books, napped and played games.  After Haakon was done with his book he took up an art project.  We could not look at him while it was worked on but his head popped up frequently to look out the window.  When it was done this is what we were shown.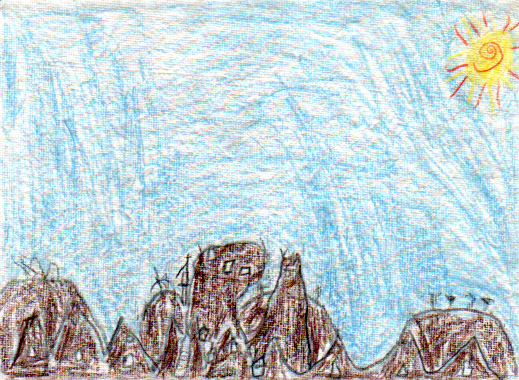 It is a great representation of the world around us, minus the heat.