The first step is admitting I have a problem, right?
That I can do.
Unfortunately, I'm still unwilling to explore any of the steps beyond that.
Because I still quite like my addiction–
to textiles.
I don't need knicknacks; I don't need fridge magnets; I don't need explanatory guidebooks.  What really warps my weft are things woven, embroidered, sewn, tatted.
Turkey is proving a delightful enabler.  Here are some ways it's fed my problem: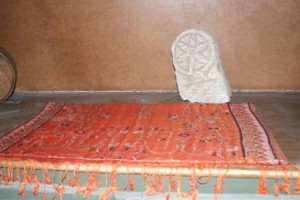 This orange shawl currently covers some ugly wood down in our guest room ("The Courtyard Suite") and, as does every bit of fabric or square of rug, helps to absorb the dust that is constantly being shed from the stone walls.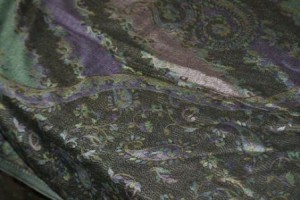 In the neighboring town of Ürgüp, there is a shop dedicated to the Ottoman art of Ebru painting, but it also contains shelves of scarves and tablecloths. I bought this cashmere shawl there; because it's made of fairy wings and ground unicorn horn, its beauty doesn't translate well into photography.
When we visited Istanbul, we spent some time in the Grand Bazaar. Just as we were exciting the massive conglomeration of stalls, I spotted this brightly-colored tablecloth and found myself drawn out of the flow of foot traffic. 
The pattern is traditional Anatolian.
The rustic feel of this tablecloth appealed to both Byron and me–although we have trouble imagining using it when we're having spaghetti and meatballs with red sauce.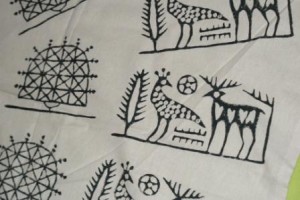 The pattern is hand-stamped with Hittite symbols.
This purchase is a shout-out to my mother, she who took a 2+ month cruise to Australia, stopping at islands all along the way…and then brought back gifts made in China. In the case of this mirrored wall hanging, I came to Turkey to buy stuff from India.
After buying this pillow cover, I sewed loops on the back so that it could be hung on the wall. Who wants to lean against something so pretty? I want to make staring eyes at it.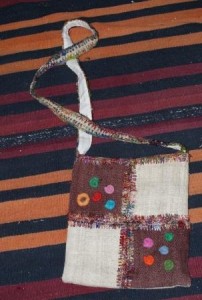 Another shout out to Mom's training here: I went to Ankara and bought this purse made in Nepal. In my defense, it is made out of hemp, sewn with silk thread, and has cute little felted circley things on it.
Speaking of felted things, this little change purse has proven invaluable in helping me keep track of my lira and kurus.
Here's another Grand Bazaar purchase–a wool shawl that makes me long for the cold to set in, just so I can cuddle up in it. Even more warming will be the memory of haggling down the initial asking price by 25 lira.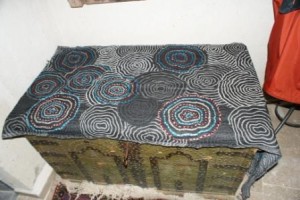 Yum.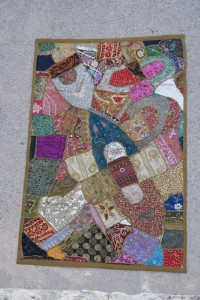 For me, this purchase is the crowning glory of the whole bunch: it's Kurdish folk art, and it's only for sale in one shop in Göreme (in contrast to most of the things for sale here which are seen everywhere, the same items in shop after shop). While I generally am not a fan of gaudy, something about the crazy quilt nature of this piece really appeals to me.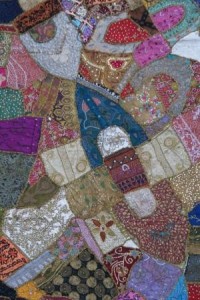 Because of all the spangles, beads, sequins, and glitz, it weighs maybe 8 pounds.
Who knew the lasting legacy of this year in Turkey would be a desire to bedazzle my walls?